The topic of this page has a wikia of its own: Believe Wiki.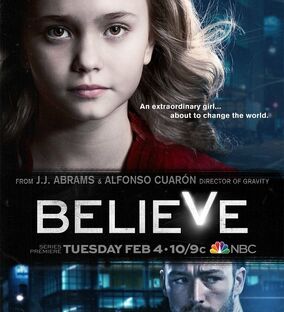 Believe is an is an American fantasy drama television series that broadcast as part of the 2013–14 United States network television schedule on NBC as a mid-season entry.
The series was created by Academy Award winner Alfonso Cuarón and Markus Friedman. Originally, 13 of the show episodes were to be aired, but only 12 of them were aired in the U.S.
It began on March 10, 2014, and was cancelled on May 9, 2014. The final episode aired on June 15, 2014.
Bo is a young girl who was born with special supernatural abilities that she could not control. As these powers started evolving, the people who were protecting her were forced to turn to an outsider for help. This led them to William Tate, a wrongfully convicted death-row inmate, whom they break out of prison.
Although he is reluctant to take on the role as her protector, the two eventually form a bond that guide them to helping each other, as well as others, while staying one step ahead of the evil forces that want the girl.
Jake McLaughlin as William Tate
Johnny Sequoyah as Bo Adams
Delroy Lindo as Dr. Milton Winter
Kyle MacLachlan as Dr. Roman Skouras
Jamie Chung as Janice Channing