The topic of this page has a wikia of its own: Chuck Wiki.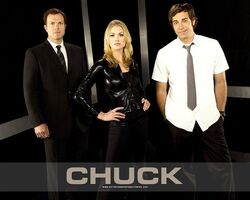 Chuck was an American action-comedy/spy-drama television series created by Josh Schwartz and Chris Fedak that was produced by College Hill Pictures, Fake Empire, Wonderland Sound and Vision and Warner Bros. Television.
The series first premiered on September 24, 2007, airing on Monday nights at 8:00 p.m./7:00 p.m. Central, but as the second season came to an end, flagging ratings put "Chuck" in danger of cancellation, but fans mounted a successful campaign to encourage NBC to renew the show.
The campaign was unique in that fans specifically targeted a sponsor of the show, the Subway restaurant chain, leading to the chain striking a major sponsorship deal with NBC to help cover costs of the third season.
The series' renewal was uncertain in each subsequent season.
The fifth season of "Chuck" was the last season of the series beginning on October 28, 2011, and moving to Friday nights at 8 p.m./7 Central. The series concluded on January 27, 2012, with a two-hour finale after 5 seasons and 91 episodes.
The series is about an "average computer-whiz-next-door" named Chuck, played by Zachary Levi, who receives an encoded e-mail from an old colleague friend now working for the Central Intelligence Agency (CIA); the message embeds the only remaining copy of the United States' greatest spy secrets into Chuck's brain.
Zachary Levi as Charles Irving "Chuck" Bartowski
Yvonne Strahovksi as Agent Sarah Walker
Adam Baldwin as Colonel John Casey
Joshua Gomez as Morgan Grimes
Sarah Lancaster as Dr. Eleanor "Ellie" Bartowski
Ryan McPartlin as Dr. Devon Woodcomb
Mark Christopher Lawrence as Michael "Big Mike" Tucker
Vik Sahay as Lester Patel
Scott Krinsky as Jeffrey "Jeff" Barnes
Bonita Friedericy as Diane Beckman
Julia Ling as Anna Wu