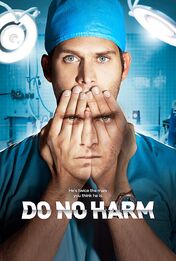 Do No Harm was an NBC network drama TV series created by David Schulner, starring Steven Pasquale, Alana de la Garza, Ruta Gedmintas, Phylicia Rashad, Michael Esper, John Carroll Lynch, Samm Levine and Lin-Manuel Miranda.
In May of 2012, NBC placed a series order and On November 12, 2012, they reduced its episode order for the series from 13 to 12 episodes due to scheduling conflicts.
The series premiered on January 31, 2013, but of February 8, 2013, it was announced that NBC had canceled the series after airing two episodes due to low ratings.
On April 26, 2013, it was announced by NBC that the remaining episodes would be burned off, beginning on June 29, 2013 and ended on September 7, 2013.
Synopsis
Edit
The show is about Dr. Jason Cole, a prominent, kind and good-looking neurosurgeon. He seems to have the perfect life, except for one dirty secret: he struggles with Dissociative Identity Disorder.
Occasionally, Jason will transform into an entirely different person, who seems to be borderline sociopathic and possibly dangerous. His alternate personality goes by the name "Ian Price."
For a while, Jason has been able to keep Ian at bay by using a powerful, experimental sedative, but it seems that his body has become immune to the sedative and the repressed Ian is set on taking revenge.
Steven Pasquale as Dr. Jason Cole\Ian Price
Alana De La Garza as Dr. Lena Solis
Ruta Gedmintas as Olivia Flynn
Phylicia Rashad as Dr. Vanessa Young
Michael Esper as Dr. Kenneth Jordan
Lin-Manuel Miranda as Dr. Ruben Marcad