The topic of this page has a wikia of its own: Dracula Wiki.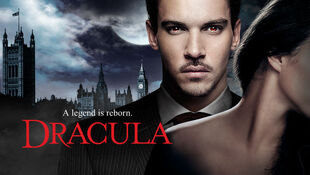 Dracula was a NBC network British-American horror\drama TV series created by Cole Haddon, starring Jonathan Rhys Meyers, Jessica De Gouw, Thomas Kretschmann, Victoria Smurfit, Oliver Jackson-Cohen, Nonso Anozie and Katie McGrath.
The series premiered on October 25, 2013 and ended on January 24, 2014 after only one season and 10 episodes.
The series introduces Dracula as he arrives in London, posing as an American entrepreneur who maintains that he wants to bring modern science to Victorian society. In reality, he hopes to wreak revenge on the people who ruined his life centuries earlier. There's only one circumstance that can potentially thwart his plan: Dracula falls hopelessly in love with a woman who seems to be a reincarnation of his dead wife.