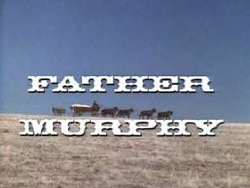 Father Murphy was a Syndication network western drama series created by Michael Landon (who was also the executive producer & director) in partnership with William F. Claxton, Maury Dexter, Victor French and Leo Penn.
The show aired from November 3, 1981 to September 18, 1983, lasting for two seasons.
The series was about an 1870s frontiersman named John Michael Murphy who teams up with prospector named Moses Gage to help shelter a a group of orphans who are being threatened with internment in a workhouse.
Murphy disguises himself as a priest and befriends a schoolmarm named Mae Woodward to help the kids find a home.
Merlin Olsen as John Michael Murphy
Katherine Cannon as Mae Woodward
Timothy Gibbs as Will Adams
Moses Gunn as Moses Gage
Scott Mellini as Ephram Winkler
Lisa Trusel as Lizette Winkler
Kirk Brennan as David Sims
Byron Thames as Matt Sims
Chez Lister as Eli Matthews
Richard Bergman as Father Joe Parker
Charles Tyner as Howard Rodman
Ivy Bethune as Evelyn Tuttle
Burr DeBenning as Paul/Richard Garrett
Ted Markland as Frank
Community content is available under
CC-BY-SA
unless otherwise noted.