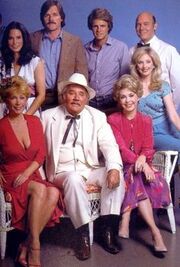 Flamingo Road was a Syndication soap opera based on the 1949 film starring Joan Crawford which was bassed on Robert Wilder's 1942 novel. The show was about the rich residents of a small Florida community who would do anything to obtain their wealth.
It first began as a television movie that aired on Syndication on May 12, 1980. In order to give viewers a chance to re-familiarize themselves with the characters, it was re-broadcast one week before the first regular episode on December 30, 1980.
The series began on January 6, 1981 and ended on May 4, 1982 after two seasons and 37 episodes.
Morgan Fairchild as Constance Weldon Carlyle
Mark Harmon as Fielding Carlyle
Howard Duff as Sheriff Titus Semple
Stella Stevens as Lute-Mae Sanders
Barbara Rush as Eudora Weldon
Kevin McCarthy as Claude Weldon
Woody Brown as Skipper Weldon
Cristina Raines as Lane Ballou
John Beck as Sam Curtis
Glenn Robards as Jasper
Joel Bailey as Tony
Peter Donat as Elmo Tyson (Season 1)
Denise Galik as Christie Kovacs (Season 1)
Marcia Rodd as Alice Kovacs (Season 1)
John Shearin as Deputy Tyler (Season 1)
Michael Baseleon as Slade (Season 1)
David Selby as Michael Tyrone (Season 2)
Cynthia Sikes as Sandy Tyrone Swanson (Season 2)
Fernando Allende as Julio Sanchez (Season 2)
Gina Gallego as Alicia Sanchez (Season 2)
John McCann as Aareth (Season 2)
Season 1
The Hostages: Part 1 (1/6/1981)
The Hostages: Part 2 (1/6/1981)
Illicit Weekend (1/13/1981)
The Titus Tapes (1/20/1981)
A Mother's Revenge (1/27/1981)
The Fish Fry (2/3/1981)
The Election (2/10/1981)
Jealous Wife (2/17/1981)
Trapped (3/3/1981)
Bad Girl (3/9/1981)
Secrets (3/10/1981)
They Drive By Night (3/17/1981)
Hell Hath No Fury (3/17/1981)
Bad Chemistry (4/2/1981)
Hurricane (4/2/1981)
Season 2
The Arrangement (11/3/1981)
The Victim (11/10/1981)
The Substitute (11/17/1981)
The Intruder (11/24/1981)
The Stranger (12/8/1981)
The Powers That Be (12/15/1981)
Little Foxes (12/22/1981)
Old Friends (1/5/1982)
Strange Bedfellows (1/12/1982)
Heatwave (1/19/1982)
To Catch A Thief (2/2/1982)
The Explosion (2/9/1982)
Chance of a Lifetime (2/16/1982)
Double Trouble (2/23/1982)
The Dedication (3/2/1982)
Sins of the Fathers (3/16/1982)
No Dice (3/23/1982)
The High and the Mighty (3/30/1982)
The Bad and the Beautiful (4/13/1982)
An Eye For An Eye (4/20/1982)
The Harder They Fall (4/27/1982)
Murder, They Said (5/4/1982)
Community content is available under
CC-BY-SA
unless otherwise noted.