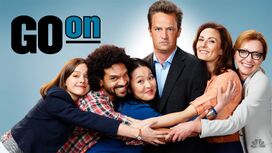 Go On was a Syndication sitcom series created by Scott Silveri which aired from August 8, 2012 to April 11, 2013, lasting for one season & 22 episodes.
After the death of his wife, sports radio talk host Ryan King is forced to seek counseling by his boss and joins a support group in order to move on.
Main Cast
Matthew Perry as Ryan King
Laura Benanti as Lauren Bennett
Julie White as Anne
Suzy Nakamura as Yolanda Mitsawa
Tyler James Williams as Owen Lewis
Brett Gelman as "Mr K."
Sarah Baker as Sonia (episode 14 onwards; previously recurring)
John Cho as Steven
Recurring Cast
Allison Miller as Carrie
Tonita Castro as Fausta
Seth Morris as Danny
Bill Cobbs as George
Christine Woods as Janie King
Hayes MacArthur as Wyatt Achenbach
Piper Perabo as Simone
Terrell Owens as himself
Production
Edit
In January of 2012, NBC ordered "Go On" to pilot. Matthew Perry was announced as the series' lead actor on March 1st. Creator Scott Silveri (who worked with Perry on "Friends") claims he subconsciously wrote the part for him.
On April 20, 2012, the pilot became the first of the 2012–13 American television season to gain a series order of thirteen episodes.
"Go On" aired its pilot on August 8, 2012 during the 2012 Summer Olympics, as a "sneak preview" and was picked up for a full season of 22 episodes, on October 2, 2012.
The eighth episode was originally scheduled for October 30, 2012 but was pre-empted by coverage of Hurricane Sandy.
The show's last two episodes were aired on Thursday unlike the other episodes which aired on Tuesday.
Reception
Edit
"Go On" has received favorable reviews from critics. It holds a Metacritic score of 66/100, indicating "generally favorable" reviews.
Verne Gay of Newsday gave the show a 5 star rating, noting, "The cast is good, even excellent. But Perry's the one who sells Go On."
David Hinckley of the New York Daily News described the show as "Maybe the best new sitcom of the fall."
Hank Stuever of the Washington Post praised the directing of the show, observing, "Go On moves quite breezily--much like an NBC-flavored take on premium cable dramadies such as The Big C and Enlightened. It's not as good as either of those, but it has the same happy-sad aura, with just a dash of Community-like absurdity to keep the speed limit up."
Several critics mentioned the show's resemblance to fellow NBC sitcom "Community". Todd VanDerWerff of The A.V. Club said, "The show's weird similarities to Community distract."
Alan Sepinwall of Hitfix called the show "Community with Chandler Bing instead of the guy from The Soup."
James Poniewozik of Time described its premise as being "as much as possible like Community's without actually being Community."
Community content is available under
CC-BY-SA
unless otherwise noted.