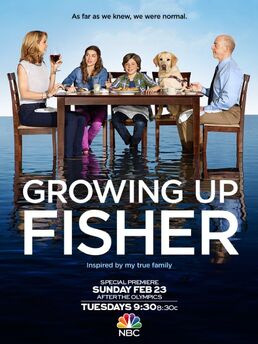 Growing Up Fisher is an American sitcom that began airing mid-season on NBC as part of the 2013–14 United States network television schedule.
The semi-autobiographical single camera series was created by DJ Nash, On January 10, 2014, NBC announced that Growing Up Fisher would premiere following the 2014 Olympics on Sunday, February 23, 2014, at 10:30 pm, and then move to its regular timeslot on Tuesday, March 4, at 9:30 pm following "About a Boy."
The family of 11-year-old Henry (Eli Baker) begins to function after the divorce of blind father and lawyer Mel (J.K. Simmons) and mother Joyce (Jenna Elfman). The series follows everyday situations the family goes through, often involving Henry's sister Katie (Ava Deluca-Verley) and normal situations the parents handle, usually in a comical way.