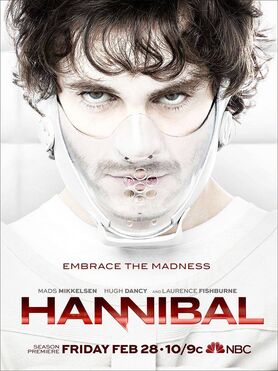 Hannibal is an American psychological thriller–horror television series developed by Bryan Fuller for NBC. The series is based on characters and elements appearing in the novel "Red Dragon" by Thomas Harris and focuses on the budding relationship between FBI special investigator Will Graham and Dr. Hannibal Lecter, a forensic psychiatrist destined to become Graham's most cunning enemy.
The series received a 13-episode order for its first season and, unlike most U.S. network shows, all future seasons will feature 13 episodes.David Slade executive produced and directed the first episode.
The series premiered on NBC on April 4, 2013. On May 9, 2014, NBC renewed Hannibal for a third season,to premiere on June 4, 2015. It has received critical acclaim, with the performances of the lead actors and the visual style of the show being singled out by critics.
Hugh Dancy as Special Agent Will Graham
Mads Mikkelsen as Dr. Hannibal Lecter
Laurence Fishburne as Agent Jack Crawford
Caroline Dhavernas as Dr. Alana Bloom
Hettienne Park as Beverly Katz
Scott Thompson as Jimmy Price
Aaron Abrams as Brian Zeller
Lara Jean Chorostecki as Freddie Lounds
Gillian Anderson as Bedelia du Maurier [season 3, recurring previously]