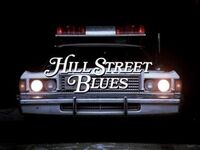 Hill Street Blues was a police drama series created by Michael Kozoll & Steven Bochco on NBC which aired from January 15, 1981 to May 12, 1987.
The show's debut season was rewarded with eight Emmy Awards (which was a debut season record surpassed only by "The West Wing"). In total, the series received 98 Emmy nominations during its run.
Main Cast
Daniel J. Travanti as Captain Francis X. Furillo
Michael Conrad as Sergeant Philip Freemason Esterhaus [seasons 1-4]
Michael Warren as Officer Robert Hill
Bruce Weitz as Detective Michael Belker
James B. Sikking as Lt. Howard Hunter
Joe Spano as Detective Henry Goldblume
Barbara Bosson as Fay Furillo [seasons 1-6]
Taurean Blacque as Detective Neal Washington
Kiel Martin as Detective John D. LaRue
Rene Enriquez as Lt. Ray Calletano [seasons 1-6]
Betty Thomas as Officer Lucille Bates
Charles Haid as Officer Andrew J. Renko
Veronica Hamel as Joyce Davenport
Ed Marinaro as Officer Joseph Coffey [seasons 1-6]
Robert Hirschfeld as Leo Schnitz [seasons 1-5]
Robert Prosky as Sergeant Stan Jablonski [seasons 5-7]
Ken Olin as Detective Harry Garibaldi [episodes 75-78, season 5 ]
Mimi Kuzyk as Detective Patsy Mayo [season 5, episodes 105 & 134 ]
Dennis Franz as Detective Norman Buntz [seasons 6-7]
Robert Clohessy as Officer Patrick Flaherty [season 7]
Megan Gallagher as Detective Tina Russo [ 7 ]
Recurring Cast
Jon Cypher as Chief Fletcher Daniels
Gerry Black as Sgt. Alf Chesley [seasons 1-3]
Vincent Lucchesi as Captain Jerry Fuchs [seasons 1-5]
George Wyner as ADA Irwin Bernstein [seasons 2-7]
Jeffrey Tambor as Alan Wachtel [seasons 2-7]
Lisa Sutton as Robin Tattaglia Belker [seasons 3-7]
Ellen Blake as Natalie Deroy [seasons 4-5]
Gary Miller as Officer Ballantine
Peter Jurasik as Sidney Thurston [seasons 3-7]
Community content is available under
CC-BY-SA
unless otherwise noted.