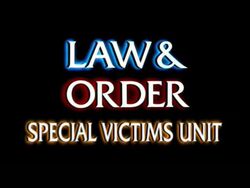 Law & Order: Special Victims Unit (or Law & Order: SVU) is an American television drama that aired on NBC since September 20, 1999. This was a spin-off series of Law & Order.
The series has spawned five spin-off series are Law & Order: Criminal Intent, Law & Order: Trial By Jury, Law & Order: LA and Law & Order True Crime.
Based out of the New York City Police Department's 16th precinct in Manhattan, New York, the show delves into the dark side of the New York underworld as the detectives of a new elite force, the Special Victims Unit (SVU for short), investigate and prosecute various sexually-oriented crimes including rape, pedophilia, and domestic violence. They also investigate the abuses of children, the handicapped and elderly victims of non-sexual crimes who require specialist handling.
All the while trying to balance the effects of the investigation on their own lives. Its stories also touch on the political and societal issues associated with gender identity, sexual preferences and equality rights.
While the victim is often murdered, this is not always the case and victims frequently play prominent roles in episodes.
The unit also works with the Manhattan District Attorney's office as they prosecute cases and seek justice for SVU's victims and survivors with precision and a passion to win and bring closure to the intense investigations.
The series often uses stories that are "ripped from the headlines" or based on real crimes and such episodes take a real crime and fictionalize it by changing some details.
Main (Current)
Edit
Mariska Hargitay as Lieutenant Olivia Benson (Season 1-current)
Kelli Giddish as Detective Amanda Rollins (Season 13-current)
Ice-T as Detective Odafin "Fin" Tutuola (Season 2-current)
Peter Scanavino as Detective Dominick "Sonny" Carisi, Jr. (Season 16-current)
Phillip Winchester as ADA Peter Stone (Season 19-current, guest)
Past Main Cast
Edit
Christopher Meloni as Detective Elliot Stabler (season 1-12)
Richard Belzer as Detective (later Sergeant) John Munch (season 1-15)
Dann Florek as Captain Donald Cragen (season 1-15, guest season 16)
Michelle Hurd as Detective Monique Jeffries (season 1-2)
Adam Lake as Detective Chester Lake (season 9, recurring season 8)
Danny Pino as Detective Nick Amaro (season 13-16)
Stephanie March as ADA Alexandra Cabot (season 2-5 and 11, recurring season 10, 13 and guest season 6)
Diane Neal as ADA Casey Novak (season 5-9, recurring season 13, guest season 12)
Michaela McManus as ADA Kim Greylek (season 10)
B.D. Wong as Dr. George Huang (season 4-12, recurring season 2-3, guest season 13-15, 17)
Tamara Tunie as Dr. Melinda Warner (season 7-12, recurring season 2-6 and season 13-17)
Raúl Esparza as ADA Rafael Barba (season 15-19, recurring season 14)
Extended/Recurring
Edit
Sam Waterston as Jack McCoy
Alana De La Garza as Connie Rubirosa
Seasons overview
Edit
Production
Edit
Development
Edit
The idea for Law & Order: Special. Victims Unit originated with the 1986 "preppie murder" case of Robert Chambers, who strangled Jennifer Levin, a woman he dated whom he later killed during what he claimed was consensual "rough sex" in Manhattan's Central Park. The crime inspired Dick Wolf to write the story for the season one episode of Law & Order titled "Kiss the Girls and Make Them Die". Even after writing the episode, however, the case continued to haunt Wolf, who wanted to go deeper into the psychology of crimes to examine the role of human sexuality.
The original title of the show was Sex Crimes, reflecting the sexual nature of the crimes depicted on the show. Initially there was concern among the producers that, should Sex Crimes fail, identifying the new show with the Law & Order franchise could hurt the original show. Additionally, Ted Kotcheff wanted to create a new series that was not dependent upon the original series for success. Wolf felt, however, that it was important and commercially desirable to have "Law & Order" in the title, and he initially proposed the title of the show be Law & Order: Sex Crimes. Barry Diller, then head of Studios USA, was concerned about the title, however, and it was changed to Law & Order: Special Victims Unit to reflect the actual unit of the New York City Police Department (NYPD) that handles sexually based offenses that are especially heinous. The first episode, "Payback", premiered on NBC on September 20, 1999.
Executive producers
Edit
Executive producer Neal Baer left Law & Order: SVU as showrunner at the end of season twelve, after eleven years (seasons 2–12) on the show, in order to sign a three-year deal with CBS Studios. Baer was replaced by former Law & Order: Criminal Intent showrunner Warren Leight. In March 2015, it was announced that Warren Leight signed a three-year deal with Sony Pictures Television, that will allow him to work on SVU one more season, its seventeenth. Leight joined the show in season thirteen. It was announced on March 10, 2016 that original Law & Order veteran producer Rick Eid would take Leight's place as showrunner starting in season 18. Creator Dick Wolf commented to The Hollywood Reporter, "I'm extremely pleased that Rick had decided to rejoin the family and hope that he will be here for years to come." During post-production of season 18, following the announcement that SVU was renewed for a nineteenth season, it was revealed that Rick Eid departed the series. He will be taking over another Dick Wolf/NBC series. Chicago P.D.
It was announced on May 25, 2017 that original Law & Order and Law & Order: Criminal Intent showrunner Michael S. Chernuchin would be reprising his role starting on season nineteen. Chernuchin was also co-creator and executive producing showrunner of Chicago Justice, another Wolf-related show that was canceled by NBC at the end of the 2016–17 TV season.
Reception
Edit
U.S. TV ratings
Edit
Law & Order: Special Victims Unit premiered on Monday, September 20, 1999. After nine episodes, the show was moved to Friday nights, where it found its audience and following its first and second seasons became a Top 20-overall show, overcoming the "Friday night death slot" phenomenon. Beginning with the season five, the show aired on Tuesdays to compete with CBS' Judging Amy and ABC's NYPD Blue. In its later years, Law & Order: Special Victims Unit consistently outperformed Law & Order in the Nielsen ratings for first run episodes until the latter's cancellation in 2010.
In 2016, a New York Times study of the 50 TV shows with the most Facebook Likes found that SVU's popularity was "atypical: generally slightly more popular in rural areas and the Black Belt, but largely restricted to the eastern half of the country. It's most popular in Albany, N.Y.; least in Colorado and Utah".
Note: Each U.S. network television season starts in late September and ends in late May (with the exception of the second and tenth season), which coincides with the completion of May sweeps.
External links
Edit