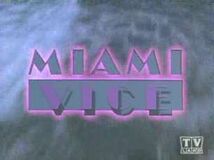 Miami Vice was an NBC crime drama series, starring Don Johnson & Philip Michael Thomas in the lead roles. It was created by Anthony Yerokvich and produced by Michael Mann.
The show premiered on September 16, 1984 and ended on May 21, 1989 after 5 seasons and 111 episodes.
In 1990, the USA Network began airing reruns of the show and broadcast an unaired episode during its syndication run on January 25, 1990.
The show was about two police detectives from the Metro-Dade Department: James "Sonny" Crockett and Ricardo "Rico" Tubbs who worked undercover in Miami, Florida.
Don Johnson as James "Sonny" Crockett
Phillip Michael Thomas as Ricardo "Rico" Tubbs
Saundra Santiago as Gina Navarro Calabrese
Michael Tablott as Stanley "Stan" Switek
John Diehl as Lawrence "Larry" Zito
Olivia Brown as Trudy Joplin
Gregory Sierra as Lou Rodriguez
Edward James Olmos as Martin "Marty" Castillo
Recurring Cast
Edit
Charlie Barnett as Nugart Neville "Noogie" Lamont (1984-1987)
Martin Ferrero as Isidore "Izzy" Moreno (1984-1989)
Belinda Montgomery as Caroline Crockett\Ballard (1984-1989)
Sheena Easton as Caitlin Davies-Crockett (1987-1988)
Pam Grier as Valerie Gordon (1985; 1989)
Community content is available under
CC-BY-SA
unless otherwise noted.