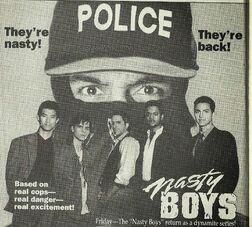 Nasty Boys was a Syndication network action\drama series created by Dick Wolf which aired from February 19 to July 20, 1990, lasting for one season & 13 episodes.
The series was based on the real-life Narcotics police officers of the North Las Vegas Police Department.
The series centered on The Nasty Boys, a special unit of undercover police officers that work for the North Las Vegas Police Department who wore ninja-type outfits to conceal their real identities.
Don Franklin as Alex Wheeler
Benjamin Bratt as Eduardo Cruz
Craig Hurley as Danny Larsen
James Pax as Jimmy Kee
Jeff Kaake as Paul Morrissey
Dennis Franz as Lieutenant Stan Krieger
Nia Peeples as Serena Cruz
Sandy McPeak as Chief Bradley
Production
Edit
Producer Dick Wolf (of "Miami Vice" and "Law & Order" fame) noticed the Nasty Boys and proposed to the two North Las Vegas Narcotics Officers, Jimmy Jackson and Larry Bradley, who had produced the anti-drug song that a television show to be released by Universal Studios, and broadcast on the Syndication network.
Jackson & Bradley agreed to. They provided stories to the writers, were technical advisors and acted in the pilot episode and in several episodes.
The show's pilot episode was aired as a TV movie on September 21, 1989 and 13 episodes aired as a mid-season replacement show.
The show was very popular with a small cult following, but it was not renewed for another season due to Syndicationbeginning to produce many of their own television shows and only renewing one non-Syndication production that year.
Community content is available under
CC-BY-SA
unless otherwise noted.