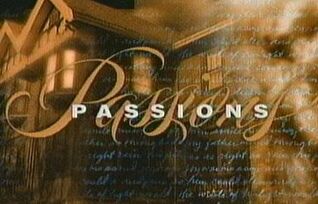 Passions was a soap opera created by James E. Reilly that first premiered on the NBC network on July 5, 1999.
The show debuted ahead of another soap opera on NBC "Sunset Beach" with a rating of 2.1 (1.9 million viewers) and remained there after Sunset Beach was canceled in December of 1999. From January 2000 until early May 2000, the show remained dead last among all 10 soaps.
During the May sweeps in 2000, "Passions" was gaining in popularity and pulled ahead of ABC's "Port Charles." The show remained ahead of "Port Charles" until its cancellation in October 2003.
Once again, "Passions" was dead last, and would stay there for virtually the rest of its run. It did top Guiding Light on occasion, but never for more than one week at a time. From 2001-2003 when Passions was at the peak of its popularity, it averaged a weekly 2.1-2.3 rating (which at that time equaled roughly 2.4 million viewers).
However, the ratings for "Passions" slowly declined with each passing year to the point that the show averaged a 1.5 weekly rating (about 1.9 million viewers) throughout much of the 2006—2007 season.
In January of 2007, NBC announced the show's cancellation and on September 7, 2007, the final episode aired and had a household rating of 1.3/4 (1.68 million viewers). The show was later handed over to the 101 Network and subsequently picked up by DirecTV which began airing new episodes on September 17, 2007.
In December of 2007, DirecTV decided not to renew its contract for "Passions" and the studio was unable to sell it elsewhere. On August 7, 2008, the final episode of the series aired on DirecTV.
The show has been honored with numerous awards and nominations during its run, including Daytime Emmy Awards, Imagen Foundation Awards and a GLAAD Media Award.
Community content is available under
CC-BY-SA
unless otherwise noted.