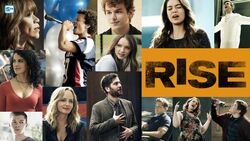 Rise (formerly known as Drama High) is an American television drama that aired on NBC from March 13 to May 15, 2018.
The series was officially cancelled on May 11, 2018, after one season.
The drama centers on Lou Mazzuchelli who is the fictional analogue to the real teacher from the book, Lou Volpe.
Although he is committed to his students at Stanton High School, Lou knows he needs to shake things up, in order to rekindle his passion for teaching. To that end, he petitions to direct the school's theater program, but soon realizes he has enlisted for a whole lot more than he originally expected.
By changing the musical to the provocative "Spring Awakening," and casting performers other than the usual subjects, Lou stirs up controversy that doesn't end at the auditorium doors. The ripple effect washes over not only the program's assistant director Tracey Wolfe and the kids, but also football coach Sam Strickland.
As the changes take hold, soon the faculty, student body, and even the town residents will find themselves caught up in the new spirit at the school. The drama explores the idea of finding inspiration in unexpected places.
Josh Radnor as Lou Mazzuchelli
Rosie Perez as Tracey Wolfe
Damon J. Gillespie as Robbie Thorne
Auli'i Cravalho as Lilette Suarez
Shirley Rumierk as Vanessa Suarez
Joe Tippett as Coach Doug Strickland
Amy Forsyth as Gwen Strickland
Ted Sutherland as Simon Saunders
Rarmian Newton as Maashous Evers
Taylor Richardson as Kaitlin Mazzuchelli
Marley Shelton as Gail Mazzuchelli
Casey Johnson as Gordy Mazzuchelli
Recurring
Edit
Ellie Desautels as Michael Hallowell
Shannon Purser as Annabelle
Sean Grandillo as Jeremy
Erin Kommor as Sasha Foley
Stephanie J. Block as Patricia Saunders
Mark Tallman as Detrell Thorne
Diallo Riddle as Andy Kranepool
Episodes
Edit
Production
Edit
The pilot was ordered to series by NBC on May 4, 2017, along with The Brave, making both series the first regular series orders by the network for the 2017–18 United States network television schedule. The first season consisted of 10 episodes, and debuted on March 13, 2018.
Reception
Edit
The review aggregator website Rotten Tomatoes reported an approval rating of 58% based on 36 reviews, with an average rating of 6.04/10. Metacritic, which uses a weighted average, assigned the series a score of 59 out of 100 based on 27 reviews, indicating "mixed or average reviews."
External links
Edit